Former regulars approve new St Saviour pub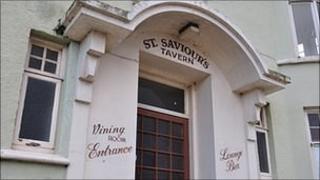 Plans for a new Guernsey pub near the site of the old St Saviour's Tavern have been welcomed by former regulars who have campaigned for it to reopen.
The new development would see the old building used for private residences and a pub built in the car park opposite.
Redevelopment plans were first proposed in 2009, after its closure in 2007, but neighbours objected.
Campaigner Corinne Connolly said it was about time St Saviour had a pub again.
She said: "I think it's important for future generations. Let's have some character left. We've lost our post office, we've lost our bakery, let's have something.
"We're the only parish in Guernsey that hasn't got a pub. There's a lot of younger people that don't always want to go to town, would like to stay here in their local, but we just can't offer it to them at this time."