Guernsey Reform Group offers cash for States cuts ideas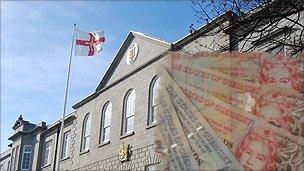 Islanders with ideas on how the States of Guernsey can save money or cut spending are being encouraged to speak out by a political lobby group.
The Guernsey Reform Group has offered cash prizes for ideas on how finances could be managed more efficiently.
It comes after the UK government asked for the public's suggestions for cost and efficiency savings in June.
Treasury Minister Charles Parkinson said: "If they come up with something useful it will be very helpful."
He said: "I welcome their efforts. I understand they are going to sift through the ideas themselves to put the more plausible ones at the top of the pile.
"If they come up with any proposals that are worth exploring we will explore them."
The group said cash prizes of £100, £150 and £250 would be given out for the best ideas.
Related Internet Links
The BBC is not responsible for the content of external sites.