Channel Island ferry services to be 'more resilient'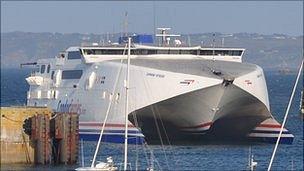 Condor Ferries is promising its new summer timetable will offer Channel Islands customers a better service.
Services were heavily affected this summer due to a number of technical problems across the company's three high speed ferries.
It said it had acted on customer feedback in making significant changes to its timetable.
Condor said the schedule included more opportunities for inter-island day trips and 40 more sailings to France.
Managing director Simon Edsall said the service would be improved in terms of "routes, punctuality and reliability".
He said: "Where tides allow, departure times have been made more consistent.
"More services will operate from Weymouth which offers a shorter sea crossing and the new Weymouth relief road will help speed customers on their onward journeys."
Mr Edsall said the company "took stock of operational experience gained" in designing the schedule to be more resilient in an attempt to avoid a repeat of the problems experienced during the summer.
Related Internet Links
The BBC is not responsible for the content of external sites.