Channel Island rescue services renamed coastguard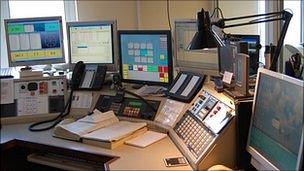 The search and rescue radio operations of Guernsey and Alderney harbours are being rebranded Guernsey Coastguard and Alderney Coastguard from January.
Captain Steve Shaw, the Alderney harbour master, said: "There will be no change to what we actually do.
"If somebody is in trouble at sea we will respond no matter what they call us.
"We are simply re-badging what we do so that we are properly recognised by the wider maritime community."
Guernsey harbour master, Captain Peter Gill, said: "We sit within the French search and rescue area but we are a totally independent entity.
"Adopting the internationally recognised Coastguard name will assist us in reinforcing our independence and remove any ambiguity in discussions between the UK and French Coastguards."
The radio services at each harbour can call upon the volunteer crews of the RNLI lifeboats stationed in each island and on Channel Island Air Search, based at Guernsey Airport.
The rebrand for Guernsey coincides with the start of a £100,000 upgrade of radio equipment, which is due to be completed halfway through 2011.
After the change Alderney, Guernsey and Jersey, which is also rebranding, will together be known as the Channel Islands Coastguard.
Related Internet Links
The BBC is not responsible for the content of external sites.