Alderney remembers 65 years of freedom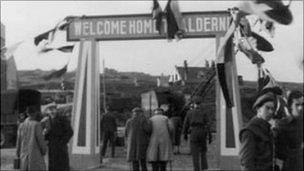 Alderney is celebrating 65 years of freedom since it was used for German concentration camps during World War II.
A Homecoming Day community service is being held at 1100 GMT at Braye Harbour involving all the island's churches and St Anne's School choir.
Co-ordinator Barbara Benfield said it would end with Charlie Greenslade playing the same cornet he played to welcome islanders home in 1945.
"[It's] very emotional," she said.
In June 1940 the population of Alderney, about 1,400, gathered at Les Butes to be officially told France had fallen to the German armed forces.
They were told the islands were being demilitarized and they had to decide whether to stay or go.
All but a handful evacuated the island ahead of the Occupation, which started at the end of June, carrying only what they could fit in their arms.
The Germans deported those left behind to Guernsey and after heavily fortifying the island, as part of Hitler's Atlantic Wall, began work on building four concentration camps.
The camps opened in March 1943, but were closed and the sites cleared in June 1944, with just a few remnants, such as the entrance gate posts, left behind to mark their existence.
No residents were living on Alderney when the Channel Islands were liberated in May 1945 and it was not until 15 December that the majority returned to the island that had changed from a picturesque holiday resort to a military stronghold.
Since then the day has been known as Homecoming Day and since 2005 it has been a public holiday in the island.
About 120 of those who were evacuated and returned to the island are expected to attend an evening event at the Island Hall.
Miriam Kidd, who was one of those evacuated, said: "It should be remembered because it was a very memorable occasion for us.
"After all Guernsey have their Liberation Day, I know it was liberation instead like we are homecoming but it was something that ought to go down in island history."
Homecoming Day remembers not only the return to the island but the struggle of a generation in rebuilding the island and the community, which had been scattered across the UK during the evacuation.
Related Internet Links
The BBC is not responsible for the content of external sites.