Guernsey minister calls for high school redevelopment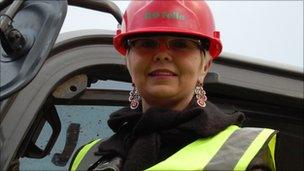 Guernsey's education minister said another of the island's secondary schools should be redeveloped.
La Mare de Carteret High School is now the only one of Guernsey's state secondary schools awaiting approval for its rebuilding.
Deputy Carol Steere is hopeful the project can be approved.
She said: "Hopefully in the next States, post 2012, it will come down to the States voting the money to do that, I sincerely hope they will."
Deputy Steere told BBC Guernsey: "We cannot leave La Mare de Carteret the only high school on the island isolated.
"It definitely needs to be redeveloped and we will certainly be considering the planning and the forward planning for that."
Work has already started on the development of a new £37m school for Guernsey.
Crews have begun clearing land near Les Beaucamps School to start construction, with work expected to be completed at the end of next year.
Head teacher Peter Le Cheminant said staff and pupils were excited to see the project under way.
Related Internet Links
The BBC is not responsible for the content of external sites.