Apology for expected Channel Island ferry delays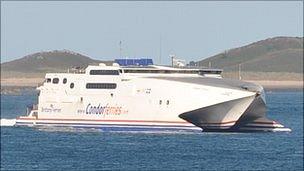 Condor Ferries has apologised to its passengers ahead of expected delays on services between the Channel Islands and France.
One of Condor Express's four engines has failed, and cannot be repaired until it is dry docked in the New Year.
It has been transferred to the company's shortest route, between the islands and France, to "cause the least disruption to the schedule".
Condor Rapide has taken over the route between the islands and the UK.
It has recently returned to duty after its own repairs in dry dock.
Condor Ferries said it had contacted all affected passengers by telephone or text message.
Ian Milner, Channel Islands manager, said: "We understand the importance of helping our customers get to their destinations over the holiday period and this plan has been prepared to minimise customer disruption.
"We are sorry for any delay that these technical problems may cause our passengers."
The company's other high speed ferry, Condor Vitesse, has already been withdrawn from service for her annual dry dock for maintenance and repair.
Related Internet Links
The BBC is not responsible for the content of external sites.