Snowfall hits travel in Guernsey and disrupts airport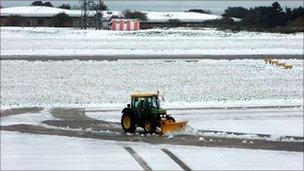 Snowfall in Guernsey has caused travel disruption across the island.
Guernsey Airport closed at 0715 GMT after several inches of snow fell. Strong winds also caused some drifts. The runway reopened at 1315 GMT.
The delivery of UK newspapers did not reach the island after weather problems at Bournemouth Airport.
Police warned motorists to be careful because of widespread snow, especially when braking. The Herm Trident ferry cancelled most Sunday sailings.
The heavy snow has caused difficulties for travellers to and from the Bailiwick.
Robert Battle, who is studying at Portsmouth University, said he had given up on flying home for Christmas and was returning by ferry instead.
He said: "I've been trying to get home for the last two or three days.
"I was meant to be flying from Southampton, but the plane has just been stuck in Gatwick, not being able to get to where it's supposed to go.
"They cancelled our flights three times, so we ended up cutting our losses and getting the boat."
Bus services operated by Island Coachways were severely disrupted on Sunday morning, but were mostly up and running by the early afternoon.
The only routes not being serviced were those going to Jerbourg or through the smaller lanes in St Martin's, the company said.
The company added that it was expecting further disruption on Monday morning.
Related Internet Links
The BBC is not responsible for the content of external sites.