Fort Tourgis redevelopment agreed by Alderney planners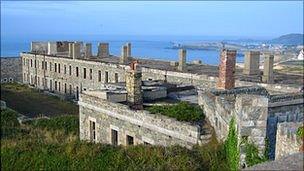 Planning permission has been given for the redevelopment of a derelict Alderney landmark.
The island's States have given their approval for Fort Tourgis to be converted into a hotel and conference centre in a multimillion-pound scheme.
Negotiations between the States and Dutch developers Verweij and Partners over the site's future began in 2007.
The fort dates back to the 1850s when it was built to provide defence for the island's breakwater and harbour.
The Building and Development Control Committee, which is responsible for planning, said the historic appearance of the site would be retained.
Its chairman Geoffrey Sargent said: "A central part of the approval was that the outside remains more or less unchanged so it remains the landmark that it ever was."
An earlier plan for the fort would have involved it being converted into 45 flats with a pool, gym, museum and restaurant included in the complex.
The scheme fell through when the proposed investor pulled out in 2006.
Related Internet Links
The BBC is not responsible for the content of external sites.