Guernsey survey suggests consultants cuts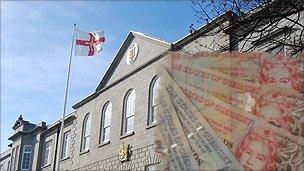 Cutting the costs of outside consultants used by Guernsey States was the most popular suggestion made in a competition run by a lobby group.
About 60 islanders sent in their ideas to the Guernsey Reform Group.
Debbie Dorey's winning entry came from a scheme run by her office, which saw staff take on the role of consultants.
She said: "If the States asked their staff to do the consultation processes and think outside the box, it would save us getting outside consultants."
Antony Hemans, from the Reform Group, said: "We particularly liked this because we thought involving the States staff in the future of their departments... was a very proactive step."
He said the response was pleasing and about the same percentage return to a similar scheme run by the UK government.
He said: "The UK got 100,000 responses for around about 60m people and we got around 60 for 60,000 people so it's virtually the same.
The Policy Council has agreed to look at the suggestions received by the Reform Group.
Related Internet Links
The BBC is not responsible for the content of external sites.