Christmas tree recycling encouraged by Guernsey States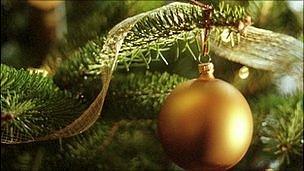 People in Guernsey will be able to recycle their Christmas trees after the festive period.
Collected trees from five sites are turned into wood chips and used as mulch in parks around the island.
The campaign's aim is to reduce the waste that is produced during the holiday season.
Recycling officer Tina Norman-Ross said she hoped to improve on last year's overall and tree recycling figures.
She said: "Our record collection was in 2008 when islanders deposited 6,000 trees.
"Last year we dipped by 500 so I'm hoping that our 2010 figures will reflect our peak collection or higher."
Public Services Deputy Minister Scott Ogier said: "It's not just tin foil and food waste that is produced at Christmas.
"It's wrapping paper, cards, stamps and when the festive season is all over, trees.
"We all need to be a little more mindful at this time of year to ensure that we are continuing the good work and staying green throughout the Christmas break."
The States recycling sites at Burnt Lane, in St Martin, and at Longue Hougue will open from 27 December.
Of the island's garden centres, Queux Patio Plants will accept trees at any times from Boxing Day while Earlswood and Le Friquet will take old trees during opening hours from 27 December.
All the sites are due to accept Christmas trees until the middle of January.
Related Internet Links
The BBC is not responsible for the content of external sites.