Guernsey harbour traditional dive 'still popular'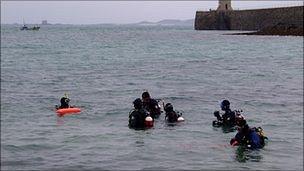 Twenty-two islanders have been given permission to explore the depths of St Peter Port harbour bed in Guernsey's annual Christmas Day dive.
It is the only day in the year when the lack of commercial traffic on the water means it is safe enough to allow dives.
Divers had to apply to the harbour master, Captain Peter Gill, for permission.
He said: "Those who dive appreciate the opportunity and it is widely used each and every Christmas."
Diver Steve Marquis said he was making his fourth or fifth Christmas Day dive mostly due to the "novelty factor".
He said: "As it can only be done once a year there is a draw to doing something different.
"There are also a lot of scallops to be had and one or two other lucky finds for some people such as old bottles and cups.
"It's also a great atmosphere on the day. Even when the weather is awful people are always cheerful."
One of the main attractions is the remains of the Gallo-Roman wreck Asterix, which was found in the harbour mouth on Christmas Day 1982 and raised during 1984-86.
Mr Marquis said: "The tide washes the silt around a fair bit each year so conditions do vary.
"To be honest it will never be 30m visibility and bath warm waters like the Caribbean, but it does have its own charm."
Related Internet Links
The BBC is not responsible for the content of external sites.