Export of Guernsey's waste 'should be considered'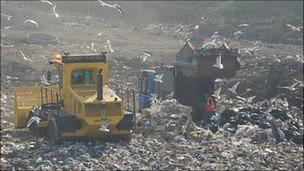 Guernsey's States should investigate the option of exporting waste to Jersey, the president of the island's Chamber of Commerce says.
A sub-group from the chamber is working with the Public Services Department to help find a solution to the island's rubbish problem.
Julian Winser said exporting may not be the final answer but should not be dismissed.
The Mont Cuet landfill site is expected to reach capacity by 2019.
Since 1994, Guernsey's States has proposed, agreed and then rejected two different strategies involving a waste-to-energy plant at Longue Hougue.
More than £11m was spent on these two failed attempts.
Related Internet Links
The BBC is not responsible for the content of external sites.