UK minister working on Guernsey Taser ban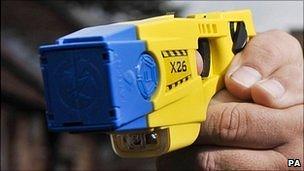 The UK's minister of state is working to get an export ban on Taser ammunition to Guernsey overturned.
Lord McNally, who represents the island's interests in the UK, was approached by the States over the issue.
The export ban outside the European Union was introduced over fears stun guns could be used for torture.
Guernsey's Home Minister Geoff Mahy said: "Clearly it is much better to disarm somebody than shoot to kill."
He said Taser use was "restricted to firearms officers not to everybody on the beat".
The stun guns and ammunition were brought to the island from the UK in 2006, before the ban was introduced.
The weapons have only one shot, which means either the electrode wires fired have to be re-packed and a new gas canister installed or a completely new cartridge containing both elements has to be attached each time they are fired.
Related Internet Links
The BBC is not responsible for the content of external sites.