Guernsey man's service to the Queen rewarded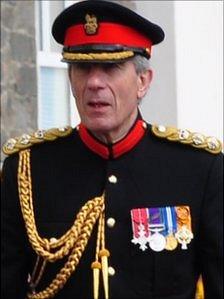 A Guernsey man's service to the Queen has been rewarded in the 2011 New Year Honours list.
Colonel Richard Graham MBE has been appointed Lieutenant of the Royal Victorian Order.
He has served as the secretary and aide de camp to the island's Lieutenant Governor since September 1998.
Three other islanders, Paul Le Boutillier, Sandra James and Frederick Shaw were all appointed MBE.
Col Graham, 69, left the military in 1992 having commanded the Princess of Wales's Royal Regiment, served as chief of staff for the 1st Armoured Division and as commandant of the Junior Division Staff College.
Having been twice mentioned in dispatches he was appointed MBE for military operations in 1979, and in 1983 was honoured by Queen Juliana of the Netherlands.
Col Graham was appointed Croix d'Honneur avec Rosette de l'Ordre de la Maison d'Orange, the Dutch equivalent of the British OBE.
His latest accolade is reserved for those who have served the Queen or the Monarchy in a personal way and was founded by Queen Victoria in April 1896.
Col Graham has worked for three Lieutenant Governors, who represent the monarch in the island, Sir John Coward, Sir John Foley and the current holder of the post Sir Fabian Malbon.
Mr Le Boutillier, 73, was recognised for his voluntary services to the elderly and to the care of sufferers from Alzheimer's.
A former electronics engineer he has involved with Methodist Homes for the Aged for about 30 years and is currently the chairman of the Guernsey branch.
He was also the driving force behind Maison De Quetteville, a purpose-built home for dementia care in Guernsey, which opened in October 2009.
First clinical specialist
Mrs James, 65, was born in Birmingham and moved to Guernsey in 1976, four years after she had begun her career as nurse.
She is employed by the Health and Social Services Department as the project manager of the safeguarding of vulnerable adults and is the current chair of the Royal College of Nursing Council.
Mrs James was the first Channel Islander to be elected to the council and the first clinical nurse specialist in alcohol and drug dependency to be appointed in Guernsey.
She has also been nominated three times as Guernsey ambassador of the year and has been appointed MBE for her services to nursing and health care in Guernsey and the United Kingdom.
Mr Shaw, 69, has been involved in boxing in Alderney for 43 years and was recognised for his voluntary services to youth and the wider community in Alderney.
His other interests include diving and along with Richard Keen he discovered the wreck of the passenger steamer Stella.
It was wrecked on Les Casquets rocks on 30 March 1899 with the loss of about 100 people and dubbed the Titanic of the Channel Islands.
Related Internet Links
The BBC is not responsible for the content of external sites.