Shore gatherers out for first ormering tide of 2011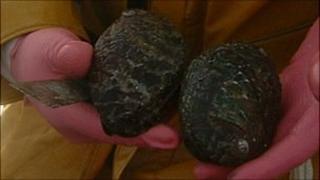 Islanders have been reminded there are strict rules governing the gathering of ormers from Guernsey's coastline.
Sea Fisheries officers will be patrolling the shores from Tuesday, when the first ormering tide of 2011 takes place.
There are 24 days before the end of April each year when islanders are allowed to go shore-gathering.
Rules govern how the rare mollusc can be collected and those taken must be a minimum of 8cm (3in) long.
Ormers can only be gathered on the permitted days, which are generally the new moon and the full moon of each month and for two days after each.
While collecting you can not be partially or fully submerged, or use any breathing equipment, snorkel or diving suit.
The ormer flesh can not be removed from its shell, which is known as "shucking", while on the seashore.
Once gathered they can not be kept unpreserved for more than two days after the permitted days, with preserved meaning cooked or pickled but not deep frozen.
Ormers can also not be exported without permission from Sea Fisheries.
The penalty for being in breach of any of these rules is either six months in prison or a fine of up to £5,000.
The rules are designed to ensure ormer stocks remain viable in the future.