Flu outbreak cancels operations in Guernsey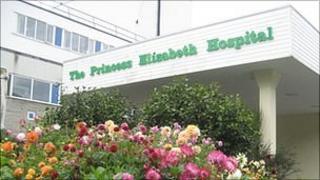 An outbreak of flu has forced Guernsey's Princess Elizabeth Hospital to cancel a number of operations.
Two minor operations scheduled for Wednesday were postponed and the Health and Social Services Department warned more could follow later in the week.
It said all patients would be assessed and admissions to hospital prioritised according to clinical need.
The department said the move followed a rise in the demand for beds, and staff shortages caused by sickness.
It said the 20 to 25 patients scheduled to undergo minor 'elective' surgery next week had been warned their procedure may have to be postponed if the situation escalated.
The situation is due to be reviewed on a daily basis.
Anyone suffering from flu-like symptoms has been encouraged to make an appointment to see their doctor rather than reporting to the Accident and Emergency Department.
There are two confirmed cases of swine flu in the island, a woman in in her 20s and a man in his 50s, both of whom have been described as "recovering well".