Fire drill held at Castle Cornet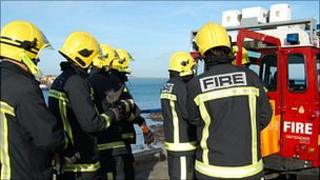 A special drill has been held at Guernsey's Castle Cornet as part of an annual test of its fire plans.
The review looked at the operational plan for the site, including how to access special risk areas, and tested signal equipment.
Steve Wilkes, the commander of blue watch, said the exercise at the popular tourist spot was vital.
He said: "It's important to be prepared, especially for the special service sites around the island."
Mr Wilkes said the aim of the exercise was to ensure "when we turn up in emergencies we're ready and prepared and don't have any unforeseen risks that we're not ready for".
The castle, which is run as a visitor attraction by the Culture and Leisure Department, stands outside Guernsey's St Peter Port harbour.
The rocky isle on which it sits was the site of Neolithic and Bronze Age settlements, before the first fortification was built in the mid-13th Century as the island was under threat of invasion from France.