Guernsey household recycling rises by 10%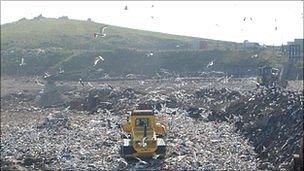 Household recycling in Guernsey was up almost 10% to an average of 45.8% during 2010, the Public Services Department has announced.
A total of 12,122 tonnes was recycling during the year, up from 8,774 tonnes during 2009.
However, the amount of household waste produced, which includes recycling, rose by 2,000 tonnes to 26,450 tonnes.
It meant 1,500 tonnes less rubbish was put into the Mont Cuet landfill, which has extended its life to 2022.
Commercial recycling was also up with a rate of 41% compared to 39% in 2009.
Dry recyclables and materials processed at the Longue Hougue Waste Recycling Facility also increased with 1,000 tonnes more than in 2009.
Public Services Deputy Minister Scott Ogier said: "Excluding paper, recycling has more than doubled since 2007 and increased more than six-fold since 2000.
"We reached our target of 50% recycling in the third quarter of 2010 and are on track to maintaining or increasing the amount we recycle.
"Islanders are doing a fantastic job. We encourage people to keep up the good work and continue to recycle as much as they can and introduce new materials where possible."
Related Internet Links
The BBC is not responsible for the content of external sites.