'Lessons learnt' from Guernsey Airport crash drill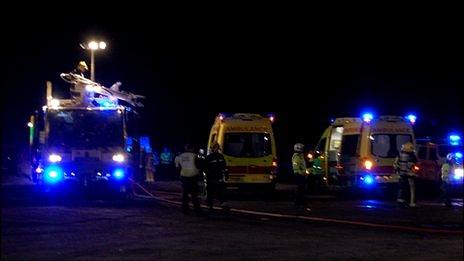 An emergency drill at Guernsey Airport was a valuable experience for the island's emergency services, according to the airport director.
Colin Le Ray said it was essential all the emergency services understood how to respond in an emergency.
An incident involving a plane and a bus was staged at the airport on Wednesday.
Kevin Murphy, duty officer for the Airport Fire and Rescue Service, said: "It's fast and frenetic but it's well oiled and everybody knows their role."
He said each service was given objectives and the lessons learnt would help them be as efficient as possible in a real emergency.
Mr Murphy said: "Each of the agencies did a fantastic job dealing with what they had to deal with."
The police, St John Ambulance and Rescue and civil protection joined the fire service and airport authorities in the exercise, which involved about 100 people.
Related Internet Links
The BBC is not responsible for the content of external sites.