Police motorbike patrols to target speeding drivers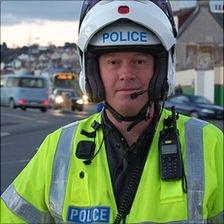 Guernsey police are hoping the return of motorcycle patrols to the island's roads will scare drivers into staying within the speed limit.
Traffic Sgt John Tostevin said while the fleet of motorbikes was off the roads some motorists thought they could get away with breaking the law.
He said with daily patrols being reinstated those days were over.
Sgt Tostevin said: "A UK superintendent uses an ideal phrase; to instil the fear of being caught into people."
He said: "We want to instil in people in Guernsey that we are now back on the roads.
"For those that have been getting away with speeding for a long time there is now going to be that fear that we will catch you."
The return of the patrols was one of several changes made to the force after a review by Chief Officer Patrick Rice, who started in the role in August.
Related Internet Links
The BBC is not responsible for the content of external sites.