Anchor find a glimpse into Guernsey's history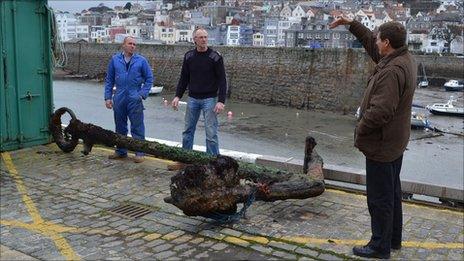 An anchor found on the shoreline of Guernsey during a particularly low tide could date back to the 18th Century.
The 15ft by 8ft (5m by 2m) wrought iron object was spotted on Friday in Havelet Bay and brought to the surface by the Sarnia work boat on Tuesday.
Dr Jason Monaghan, Guernsey Museums director, said: "An anchor of that size would have been on a 150ft (46m) ship or something of that nature.
"It is probably too large to go on display in the island."
He said: "The important thing we'll have to think about at the moment is stopping it from falling apart, which will be the big challenge.
"It's been happily under the sea rusting away very slowly, it comes out into the air and the salt that's in there will start crystallising and it will start exploding the surface and then you'll get accelerated corrosion in the metal itself and the thing will just fall apart."
Dr Monaghan said one solution was to soak it in cold water, but then once the salt had come out you had to work out how to stop it rusting normally.
He said the island had no facility for this kind of work, but that a large container could be used.
Harbour master captain Peter Gill said: "On Friday the duty officer at Guernsey coastguard was just looking around the beaches with the camera and he spotted at the low water mark what looked like an anchor.
"It's what's called a stock anchor, which is the sort of anchor that would have been fitted to ships of the 18th and 19th Century."
He said the anchor was only visible due to the particularly low tide at 0.6m (2ft).
He said: "Obviously finding an anchor on its own with no chain or rope attached to it is quite unusual as they are valuable items, they were certainly very valuable in those days... so the ship must have been in some difficulties to leave it behind.
"The location and orientation of the anchor suggests it was there before the castle emplacement was built [in the 19th Century], it's very, very close to it, there's not enough room between the emplacement and the anchor for a ship to have actually sat."
Dr Monaghan said: "It's obviously been in the sea for a long time as it's very heavily encrusted with marine growths and although the structure of the anchor seems to have held together quite well it used to have a wooden stock at the top, which obviously has completely rotted away.
"It's got an arrow shaped base which should make it easier to identify, so there's a reasonable chance we might be able to identify the nationality of the ship, but it's very early days."
Related Internet Links
The BBC is not responsible for the content of external sites.