Les Bourgs Hospice launches a monthly lottery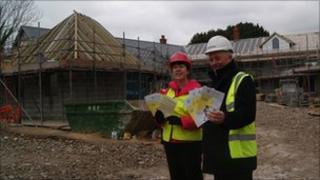 A Guernsey hospice has announced plans to run a monthly lottery to help cover its annual running costs of about £600,000.
Les Bourgs is hoping it will raise at least £3,000 every month.
The hospice was demolished in June 2010 and a new building is being erected on the same site.
The hospice estimated it would need a further £2.8m to cover the cost of designing and building the new facilities.
The lottery has been designed so that participants pay £5 every month by standing order. The top prize has been set at £1,000.
Jo Boyd, the director of nursing, said the money raised would help pay for an excellent service once the new hospice was constructed.
She said: "I absolutely love it. It's going to be one of the best hospices in the world.
"This is a place for people to live... the general misconception from the public is that hospices are just about dying."
The first lottery draw is due to take place on Wednesday, 11 May 2011.