Guernsey Christmas lights charity loses chairman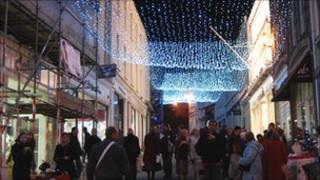 The chairman of the Guernsey charity responsible for putting up St Peter Port's Christmas lights has resigned.
Martine Ellis, who has been involved in Festive Decor for ten years, said fundraising had become a struggle.
"I have done everything in my power to secure sustainable funding, yet still we are stuck," she said.
Two other board members, Alex Margison and Rory Inglis, have also resigned, while Simon Ellis has given up the position of vice chairman.
Ms Ellis said "a very small number of people" were responsible for what she described as a "huge community project" and that "no one else seems to want to be accountable".
The charity temporarily switched off the lights during one of the pre-Christmas late-night shopping evenings on Thursday, 9 December 2010.
Charity members admitted this was a publicity stunt designed to make shoppers and traders aware of the charity's difficulties in raising an estimated £30,000 a year.
Ms Ellis said: "It is time to hand over the reigns to someone else."
The charity's new chairman is to be announced in the next few days.