Call for periwinkles for Guernsey's Shell Shrine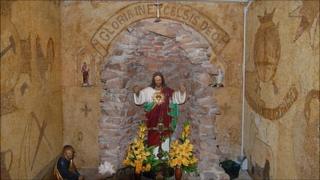 Islanders have been asked to donate periwinkle shells for the restoration of a shrine at Fort Hommet in Guernsey.
Hubert Le Galloudec used shells he picked off island beaches to depict Bible stories in a World War II bunker.
Le Galloudec Committee, which has worked to restore the site since 2005, said the shells were needed to repair the wording on the floor of the shrine.
Committee member Chrissie Robert said they were particularly looking for more yellow periwinkles.
Mr Le Galloudec worked by lamplight to created the designs in porcelain and shells in the bunker, which had been built by the German occupying forces to house a 60cm searchlight.
The shrine was opened to the public in the late 1960s but was closed in 1971 after it was vandalised.
After three years of restoration the shrine was reopened in 2008 and opens on various Saturdays throughout the year from 1400-1600.