Asbestos fear halts work at Princess Elizabeth Hospital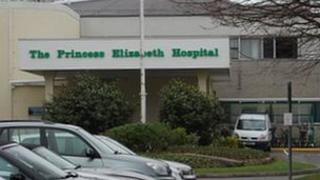 Material thought to be asbestos has been found during work to renovate a ward at Guernsey's Princess Elizabeth Hospital.
The substance was uncovered in the ceiling of the Ozanne ward, causing the work to be put on hold indefinitely.
The ward was closed in October 2010, partly as a result of staff shortages but also for floor repairs. Its reopening was planned for March 2011.
The material has been sent for urgent laboratory analysis.
The Health and Social Services Department said the amount found was small and was thought to be an asbestos sprayed coating.
It assured patients and visitors who have been on the Ozanne ward that the risk of exposure was very low and that staff carrying out the renovation work would be monitored.