Guernsey marine ambulance needs new engines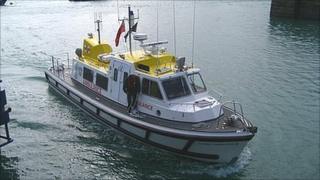 Guernsey's marine ambulance needs two new engines at a cost of £100,000.
The 17-year-old Flying Christine III had been out of action for the past few weeks due to a faulty gear box, but has returned to service.
The replacement of the engines is due to take place in the coming months, and is expected to give the vessel another 15 to 20 years of life.
The running costs of St John Ambulance and Rescue Service's operations are funded by charges and donations.
The cost of the new engines is equal to the funding needed to run the vessel for two years.
Jon Beausire, chief officer, said it was money well spent.
He said: "It's a purpose built vessel that can accommodate a patient who is either seriously ill or seriously injured and all forms of medical treatment can be carried out on board.
"It is a lot more difficult to carry out medical treatment on other vessels, we do do it as a contingency, but it is not ideal.
"I use the example of running a road ambulance service by using just a fleet of vans and some mattresses, well that's the difference between having a purpose built marine ambulance and another vessel."