French group to study Channel Islands' dolphins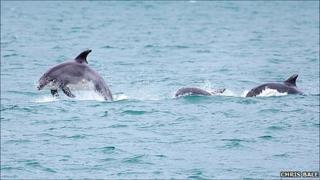 A French conservation group has launched a study into the dolphin population of the Channel Islands.
The Cotentin Cetaceans Study Group hopes to determine the health and numbers of bottlenose dolphins in the Bay of St Malo.
It is thought it may be home to 400-700 dolphins at any one time, making it Europe's largest dolphin population.
French PHD student Marie Louis is part of the project team and said they would appreciate the help of islanders.
She said although there was no formal partnership with the islands she hoped anyone interested in their work would not hesitate to get in touch.
The study by the Cherbourg-based team is expected to last three years and aims to deliver a precise figure on the numbers in local waters.
The group said it would be visiting Channel Islands waters later in the year.