Guernsey cycle parking to be improved in St Peter Port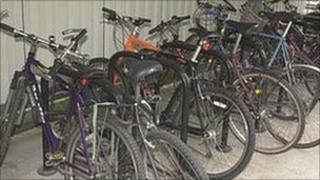 Plans have been announced to give Guernsey cyclists more places to park their bikes.
The island's Environment Department wants to install 27 new cycle hoops at the Market Steps and at the North Beach and Crown Pier car parks.
A spokesman said the aim is to reduce the number of cars on the roads and to make more car parking spaces available.
The department is also aiming to reduce the number of bikes chained to street furniture in St Peter Port.
In addition to the cycle hoops, the plans call for three shelters.
The planning control section of the Environment Department will now decide whether to give the proposals the go-ahead.