Guernsey population meeting turnout 'disappointing'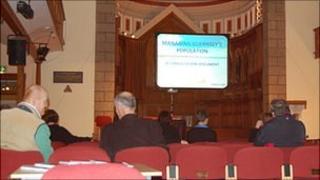 The turnout at a public meeting to discuss Guernsey's population policy was "disappointing", say organisers.
The first two of six meetings over what the island's future population controls should be were attended by 18 and 17 people respectively.
Natasha Keys, director of population policy, said: "It is a disappointing number of people who have turned out.
"However, the quality of the questions we had from that small number of people was really quite extraordinary."
Ms Keys added: "One of the reasons we're putting on these events is to try and help people to understand the wide range of issues and a lot of them came out tonight."
Stephen Langford, chief officer of the Housing Department, said there had been some disparaging comments about the length of the consultation document, at 188 pages.
He said the meetings were a chance to listen to a presentation about what the document contained.
Mr Langford said: "Hopefully it stimulates other people to think about issues they haven't thought about and we hope they'll commit those views to paper and make them known."
Housing Minister Dave Jones said the meetings had been well advertised and it was hoped more people would attend.
"Perhaps it's a subject that they really don't want to get involved in," he said.
"I think when they see real concrete proposals on the table and all the things they disagree with are in that document then I think you'll probably see people turning out in much larger numbers."