Trust wants height of Nelson Place plans shown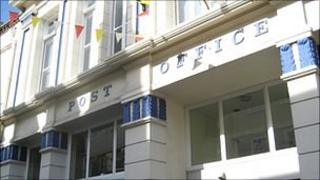 Guernsey's National Trust has asked the Environment Department to use scaffolding to indicate the height of new proposals for Nelson Place.
Ossory Investments has put new plans forward to create two floors of retail floor space on the site of the former post office.
It had been refused permission to strip out the building and create three floors and a basement for retail use.
The height of those plans was shown by scaffolding erected on the site.
Martin Ozanne, from the trust, said the site rails were still up and hoped they could be adjusted to show the new height of the current plans.
He said the height of the build, which would mean a loss of view from Anne's Place, was what concerned it.
He said it supported the rest of the plans, which include maintaining the facade of the building.
In July 2010 Ossory was given a 12-month option for the States-owned building, which was to allow time for the redevelopment negotiations to take place.
The new plans are open to public consultation until 18 March.