Guernsey to Manchester route is suspended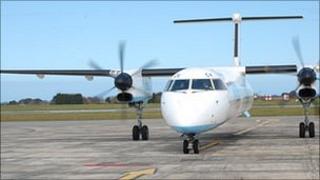 Airline Flybe has criticised the lack of an open skies policy in Guernsey after the suspension of summer flights between the island and Manchester.
The Commerce and Employment Department said the suspension followed a complete review of all air transport licences.
The airline said it was "bemused" by the department and its "ostrich-like refusal to follow the rest of Europe in operating an open skies policy".
Flybe said it would appeal against the suspension.
A spokesperson for the airline said: "[The suspension] points to an ongoing restraint of Flybe and other airlines that is designed purely and simply to protect the States' very own loss-making airline, Aurigny.
"Given that Flybe has served the island for more than 20 years, we are surprised by the constantly aggressive stance being taken against us by the States of Guernsey."
The Commerce and Employment Department said: "As Flybe has the right to appeal the decision to suspend the licence, the department cannot comment further on this matter."