Guernsey charities given unsold stock as Checkers shuts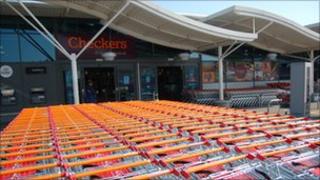 Charities in Guernsey have been given the chance to take their choice of unsold stock at the Checkers store at Admiral Park in St Peter Port.
The supermarket closed on Tuesday having been taken over by the UK company Waitrose. It also bought a former Safeway store in the island.
The Admiral Park shop is expected to open in April after being refurbished.
Both supermarkets had to be handed over empty of stock, so many items that were not sold were donated to charities.
Margaret Lowe, from the Friends of the Citizens Advice Bureau, said a wide variety of products were available.
She said: "We've grabbed tins of things, envelopes, plastic spoons, light bulbs... and then they came out with fruit and veg, cheese and milk. It was all going to be thrown away."
Allen Edwards was the manager at the supermarket, as it closed its doors after being operated by Guernsey's Le Riche's company for 10 years.
He said that bidding goodbye to his staff was a strange experience.
"The next time I'm going to see them," he said, "they're all going to be wearing Waitrose uniforms and hopefully all 'brainwashed' into the new way."