Easyjet names plane after avalanche death Guernsey man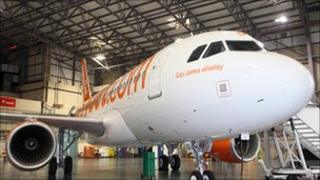 An international airline has named one of its aircraft after a Guernsey man killed in an avalanche.
Easyjet dedicated a new Airbus 319 to the memory of Capt James Whalley, who died while skiing at the French resort of Val d'Isere on 11 January.
Family, friends and colleagues gathered at a ceremony at Gatwick Airport.
Speaking at the ceremony, Carolyn McCall, the airline's chief executive, spoke of Mr Whalley's "professionalism, dedication and popularity".
"His colleagues at Gatwick were united in their belief that James's memory deserves honouring," she said.
"We are pleased that we have been able to gather here today to celebrate James's life through the naming of the newest aircraft in our fleet."
The aircraft flew into Gatwick on Tuesday and operated its first commercial flight on Thursday.