Call for joint action on Japanese knotweed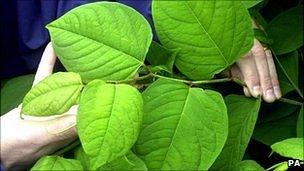 The States of Guernsey and parish douzaines need to work closely together to stop the spread of Japanese knotweed according to a St Martin's constable.
Gerry Tattersall said the plant had been cleared from the Moulin Huet area a number of times over the past 10 years, but always returned.
The plant has damaged willow trees and hydrangeas in the area.
Mr Tattersall said a joint approach was needed to deal with the plant, which also grows along the nearby cliffs.
He said they had last cleared the area around the Moulin Huet tea rooms six weeks ago, but the knotweed had already returned to a height of 18in (46cm) and was now being tackled with a chemical spray.
Japanese knotweed has large green leaves and a very thick green and brown stem and can grow up to 10cm (4in) a day with a total height of 3-4m (10-13ft).
The invasive species, which originates in Japan, grows very quickly smothering Guernsey's native plants and can also damage building foundations, grow through walls and lift tarmac.
Related Internet Links
The BBC is not responsible for the content of external sites.