Ancient drinking troughs in St Martin rejuvenated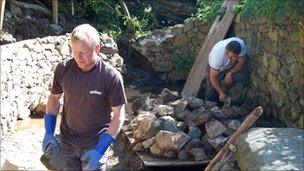 A project to repair and improve ancient wells and drinking troughs in St Martin is nearing completion.
Stonemasons have already worked with the parish constables to rebuild the stonework of these "abreuvoirs" at Le Varclin, Le Mouilpied and Calais Lane.
The last to be repaired is at La Fosse, which is thought to be 400 years old.
Sam Ellis, who has been leading the team of stonemasons, said: "It was quite a mess. It hadn't been touched for quite a few years."
"The project has been an ongoing thing with the parish for a few years, so it's good to be involved."
Mr Ellis said all the stone used in the repair work was sourced locally, with much of it coming from walls in the parish that had been taken down.
Each site was originally designed with separate drinking areas for people and livestock. In each case the facility for humans was slightly upstream from that for animals.
Mr Ellis said the repairs had returned the abreuvoirs to their original condition, but he was not confident they could be used for their original purpose.
"Unless they're tested," he said, "I don't think it's a good idea to drink from them anymore."
Related Internet Links
The BBC is not responsible for the content of external sites.