Attempted murderer given 15 years for stabbing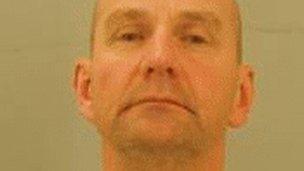 A man has been sentenced to 15 years in prison for attempting to kill his girlfriend's former partner with a knife.
Anthony Jones, 53, from Poole, in Dorset, was found guilty of the attempted murder of Richard Wordsworth by Guernsey's Royal Court in March.
Jones made no show of emotion as the sentence was read out.
Judge Russell Finch said he had been seriously disturbed by Jones's calculated behaviour.
Jones booked a flight to Guernsey and a hotel room after reading a text message from Mr Wordsworth on the phone of Sharon Ellis, with whom he had had a relationship.
The day after he arrived in the island he went to the home of Mr Wordsworth and stabbed him in the chest with a knife.
Guernsey Police arrested Jones later that same day.
Related Internet Links
The BBC is not responsible for the content of external sites.