Sark hit by spate of bicycle thefts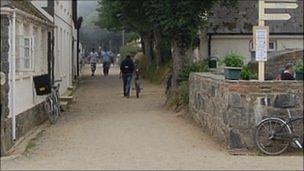 The car-free Channel Island of Sark has been hit by a spate of bicycle thefts.
Bob Parsons, editor of the Sark Scribe, said in the past most bikes taken have been found nearby but recently many have been recovered with seats missing.
He said: "This is not the norm in Sark, it's virtually a crime-free island and we'd like to keep it that way."
An electric mobility car was also stolen and damaged and its owner Ronnie Stokes said the thefts have been a nuisance to everyone.
Sark does not have its own police force and Guernsey Police can only come to the island when invited by the seigneur, the island's lord.
Related Internet Links
The BBC is not responsible for the content of external sites.