Andy Goldsworthy's Alderney Stones put into position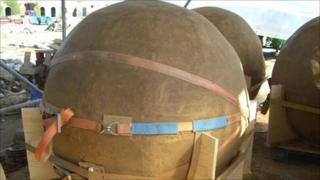 The first of 12 clay boulders, part of a major art project, has been put in place in Alderney.
The aim of sculptor Andy Goldsworthy is for them to naturally erode, giving residents the chance to see them change over time.
The first one was put in a World War II bunker underneath Fort Tourgis with the others on beaches, bays and headlands.
Mr Goldsworthy said the stones reflected the closeness of islanders to the changing world around them.
The Alderney Stones contain different items including poppy seeds, wheat, sea-worn bricks, worn gloves and a length of chain from Braye harbour.
The harbour is one of the other locations for the boulders along with Saye Bay and Longis Bay with only the first one being placed inside a structure.
He said: "I think anybody who lives here has to have some understanding of the climate, the changes, the light - it's an extraordinary place to live in and I hope these stones reflect some of those qualities."
Mr Goldsworthy said of the 5ft diameter boulders: "It's made through a process of compression and compacting the earth and, like stone, I like the sense of weathering and change that will occur to it over time."
The stones have been covered, but once they are all in place they will all be unveiled together - which is expected to be on 21 April.