Guernsey asked to protect children by stocking iodine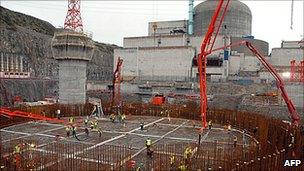 A Guernsey woman who has worked with children affected by nuclear radiation has called for iodine pills to be stocked at the island's schools.
Jan Bisson has worked for 20 years with children affected by the world's worst nuclear disaster at Chernobyl in 1986.
She said the pills would "minimise the risk" of thyroid cancer should there be an incident at the Flamanville nuclear power plant on the nearby French coast.
In response, Health Minister Hunter Adam questioned their usefulness.
He said: "I'm not sure how effective they are considered now."
The island's emergency planning officer confirmed a delegation from the Home Department was planning to visit Flamanville to discuss emergency plans.
Catherine Veron said: "Because of the disaster in Japan, there will be a learning outcome from that."
However, she said that other potential emergencies, such as a flu pandemic, coastal flooding and marine pollution, were considered to present a greater threat to the Bailiwick.
Related Internet Links
The BBC is not responsible for the content of external sites.