Computers from Guernsey to be sent to African children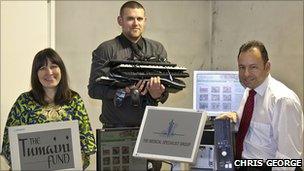 Used computers have been donated to a Guernsey charity for shipment to secondary school children in Tanzania.
The Medical Specialist Group gave more than 40 PCs to the Tumaini Fund.
Dr Susan Wilson, the charity's chairman, said the equipment would be given to children who had never previously had access to computers.
"This will have a dramatic impact on their learning and communication opportunities," she said, referring to pupils in Kagera in western Tanzania.
"We are slowly but surely helping to lift these people out of poverty through education", she said.
The Tumaini Fund still needs £6,000 to cover the cost of transporting the computers from the UK to Kagera via the port of Dar Es Salaam.
The charity estimates it has helped 8,200 children in Tanzania to attend secondary school, while helping 20,000 children who have lost one or both parents to Aids.
Related Internet Links
The BBC is not responsible for the content of external sites.