Border talks prompt French visit to Guernsey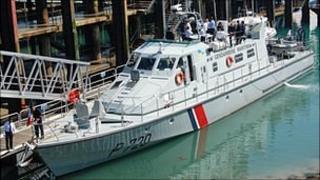 Two days of talks have been held between Guernsey, Jersey and French law enforcers aimed at improving cross-border relations.
Officers from the French maritime police and serious regional crime unit visited the island on board the Gendarmerie Maritime vessel Geranium.
Drug smuggling, controls on fishing and incidents of bodies washing ashore were among the items being discussed.
Rob Prow, border agency chief, said improving relations was essential.
He said: "I think co-operation and partnerships in our line of law enforcement is absolutely vital.
"Traditionally we've had a very close working relationship, which continues, with the French customs and this is an opportunity to widen that to the Gendarmerie and we're very keen to do that."
Guernsey's police and harbour authority and Jersey Police were also in the talks, the first since a similar meeting in Jersey in 2006.
Guernsey's authorities said further meetings were likely, but nothing had been decided as yet.