Guernsey Water set to supply land for light industry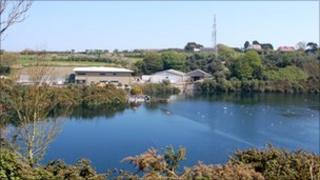 There could soon be more land available in Guernsey for light industry.
Guernsey Water has applied for permission to build 11 new industrial units at St Andrew's Reservoir.
Andrew Redhead, the director of water services, said: "We obviously need to make sure the community can make good use of these units. There is a need."
Owners of some small firms have joined with politicians to campaign for suitable spaces in the island since Leale's Yard closed in 2009.
The company has erected a new depot at the St Andrew site and intends to move its main business operation there in May.
However, Mr Redhead said there remained a large area of "surplus" land which it wanted to release to a developer for the industrial units.
"They're being built to the standard and with the agreement of both the Commerce and Employment and Environment departments.
"We've had a number of people who have made approaches to us directly and obviously we'll forward these on to the future developer."
Mr Redhead also said the supply of water to the island was secure, both in the short and long term, despite very dry weather during April.
This, he said, was partly thanks to the storage of water at the St Andrew's site, which became operational in 2004.
He said the company's campaign to put more of its customers on water meters had helped to ensure a steadier demand, while there had been improvements in leakage repairs and water catchment.
"We should be faced with no water restrictions. We've got ample water supplies," he said.