Guernsey tops Beachwatch survey despite litter increase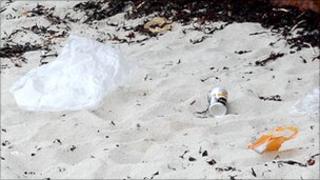 Guernsey's beaches have been declared among the cleanest in the British Isles, despite a 7% increase in litter found on them.
Twenty-nine beaches were cleaned up by volunteers in the Bailiwick in 2010, as part of the Marine Conservation Society's annual Beachwatch survey.
The Channel Islands had the fewest items of litter of any region, with 1,015 per km. The UK average was 1,969.
The biggest source of local rubbish was the beach user, followed by fishermen.
Emma Snowden, the society's litter campaigns officer, said: "That's things like crisps, cigarette butts and things that have been left there but also things that have been blown on to the beach."
The bulk of the Channel Island statistics were derived from research in the Bailiwick of Guernsey.
Only three beaches were cleaned in Jersey during the survey, compared with 23 in Guernsey, one in Alderney and five in Herm.
Peter Sirett, the minister of the Environment Department, welcomed the Channel Islands' position on the regional list and identified the Bailiwick's youngest generation as the solution to the growing amount of litter.
"I think eventually we will build up a culture within the island of people who do respect the beaches and do look after them," he said.
"I look to the children - as our future - to take that message through."