Aurigny airlines pledges commitment to Alderney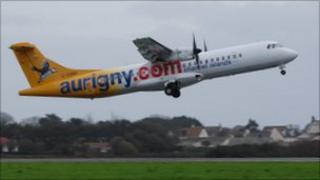 An airline serving the Channel Island of Alderney has pledged to continue flying there after its only competitor announced it was pulling out.
Blue Islands is ending its Alderney service on 10 May.
But state-owned Aurigny said Alderney was the airline's "home" and it would step in to help affected passengers.
The two airlines had been in competition over the Alderney routes since Blue Islands began operating there in 2006.
Malcolm Hart, managing director of Aurigny, said: "Alderney is our home.
"It's where we began 43-years-ago and my personal commitment to it is unalloyed.
"Anything we can try to do to develop the Alderney economy we will."