Guernsey pub 'not to blame' for glass on beach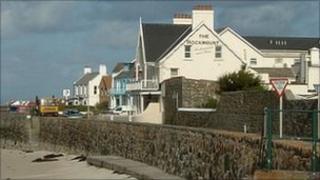 The manager of a beach front pub in Guernsey has said his customers are not to blame for littering the sand with glasses, bottles and empty cans.
Police had warned beach visitors over the weekend after reports of broken glass being buried in the sand at Cobo.
Jonathan Jackson of The Rockmount said it had licensed door staff to stop glass being taken on to the beach.
"It's the same scenario every year, but especially this year because the sun has come out so early," he added.
"We employ a security firm to prevent people from taking glass over to the beach."
Mr Jackson said his staff swept the beach in front of the Rockmount to remove any items that may have come from the pub or looked like products the pub sold.