Vazon Bay Cafe to be turned into two storey restaurant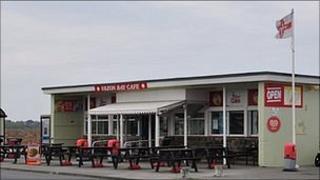 A cafe at one of Guernsey's most popular west coast beaches is to be turned into a two storey restaurant.
At an open meeting on Tuesday, planners decided to grant Eddie Percy permission to turn his Vazon Bay Cafe into a significantly larger business.
It was Mr Percy's third attempt to have an extension project approved and it was passed despite some reservations about disabled access and lost parking.
He said he was relieved with the result after a year working with planners.
The present building, which lies between the coast road and the sea wall, will be extended at the front and both sides and a terrace created at first floor level.
There will also be raised decking at the rear and on the path adjacent to the sea wall.