'The Ritz' pub in St Saviour to be demolished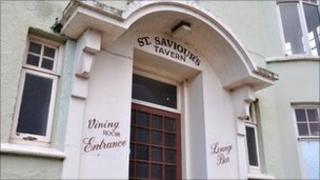 The Guernsey parish of St Saviour will not have its only pub reopened, after permission was given to demolish it.
Campaigners had called for St Saviour's Tavern, nicknamed "The Ritz", to be reopened since its closure in 2007.
Instead, planners decided at an open meeting on Tuesday to allow St Saviours Landholders Ltd to build three new flats, new gates and a 1.8m (6ft) wall.
Former regular Corinne Connolly said the loss of the pub was the loss of part of parish life.
She said: "We're in the only parish now where you have you go outside if you want to socialise in that way.
"I don't think there are enough workmen's pubs... there were a lot of farmers who used to like to pop in, tradesmen and others could just go into the bar.
"It wasn't posh but it was a friendly place to be and if you were dressed up a little bit and wanted a meal then you went into the lounge [bar]."