Royal Navy visits Sark and Alderney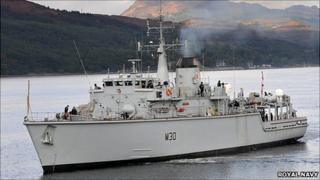 Royal Navy minesweeper HMS Ledbury has been visiting Sark and Alderney.
The 60m (196ft) vessel, which was commissioned in 1981, arrived in Sark on Friday morning.
After a presentation to Sark officials, a football match took place between the 43-strong crew of sailors and the island side.
Twelve children from Sark were on board for the ship's trip on Saturday to Alderney where the crew made a presentation to the island's States.