Three cars pushed over Pleinmont cliffs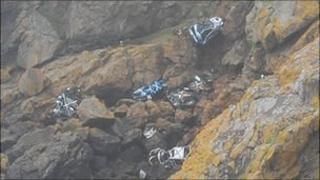 Three cars were pushed over cliffs at Pleinmont on Tuesday morning, prompting Guernsey Police to issue an appeal for information.
No-one was found in the cars, but a number of items were retrieved from the vehicles by St John Ambulance and Rescue's cliff rescue team.
Sgt Martin Harris said any information would be greatly appreciated.
He said such "stupid" acts meant wasted time and resources for the island's emergency services.
Sgt Harris said: "You can't emphasis enough the impact that a call like this has for the emergency services, for what could be a fatal incident.
He said the force usually dealt with three or four incidents of a single vehicle being dumped over cliffs a year.
Sgt Harris said: "There are other vehicles down there, the majority of which we, or the rescue services, mark with a big white cross so if we get a call about a vehicle down there we know from our records whether it's been down there a while or not.
"It adds to the defacement of what is a very scenic part of the island.
"It looks terrible, but unfortunately we can not retrieve them as they are too far down."